Custom Storage Spaces in Ada, MI
A home is made of various rooms, and each room has the potential to be organized. This is true even if you don't have a lot of storage space available. At Smart Spaces Michigan, we specialize in creating custom closets, garages and other storage areas for homeowners in Ada and the surrounding areas. Because each of our storage spaces is made precisely for the person who will be using it, there's no wasted space, materials or money.
From your first consultation (which is free, by the way) to your final installation, your satisfaction is our first priority. We want you to enjoy using your new custom closet or custom garage, but more than that, we want it to change your life for the better. You just might be amazed at how far-reaching the effects of better organization are!
Get Organized With Custom Closets in Ada, MI
If you have always felt that you were not a good organizer, we have news for you: No one is, if they don't have the proper storage products and spaces! That's right: It's not your fault that your home is not well-organized. At Smart Spaces, we have the products and expertise to help you take control of the messy places in your home.
Custom Closet Design Experts
Because they're behind closed doors, your closets can get out of control quickly! Whether we're talking about your walk-in closet, kids' closets, hall closets or linen closets, a little bit of mess left unchecked can really wreak havoc on the space's organization. We offer closet shelves, drawers, cabinets and organizers that will keep your clothing, shoes, accessories, towels, coats, kids' items and everything else you need to store nice and neat. Because everything is built to order, you can be sure that your components will fit and that you will get the organizers that you need and want.
Garage Organization Professionals
The garage is usually the largest storage area in a home, and it can also get to be the biggest mess! If you don't know where to start, we can help. Our garage organizers range from overhead racks and wall panels to beautiful garage cabinets and workbenches. We make sure you have space for what you need to store by maximizing the space on your walls an overhead. You might even find that you're able to park your cars in the garage for the first time in a long time!
Organizing Your Laundry and Kitchen
Have you lost the joy of cooking? Maybe you never had the joy of doing laundry, but perhaps you didn't used to dread it so much. If your kitchen and laundry room disorganization is taking its toll, a custom storage and organization system in the offending room can help. We build custom kitchen pantries with pull-out shelves, kitchen cabinets, laundry room cabinets and shelves, and much more. You'll be able to see your design before we start building it, so you'll know that it will make your life easier.
Home Office
A disorganized home office can lead to wasted time, lost money and, if it's extreme, even lost clients or customers. Keeping yourself well-organized is easier when you have the right tools for the job. At Smart Spaces, we can install home office cabinets, drawers, shelves, a workspace, and other types of office organizers. Spend less time chasing paperwork and looking for office supplies, and more time being productive, so you can get your work done and get out of there on time.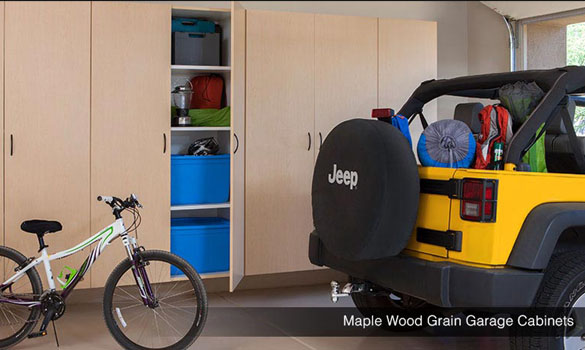 If you are ready to take control of your home organization in Ada, please call Smart Spaces Michigan today. We offer a free consultation in your home, which is when we can go over all of your options when it comes to designing your custom closet, garage or other storage space. There's no obligation. Call now!