Custom Closets in Rockford, MI
Are you proud to show off your home, including your closets and other hidden areas, to guests? If you have a hard time keeping your home in the condition that would make you proud to parade your friends and family through it, Smart Spaces has the solutions that you are looking for. We design custom closets, garage organizers, laundry rooms, kitchen pantries, and home offices for homeowners just like you in the Rockford area. Instead of visiting with neighbors on the front porch or hesitating to invite people over, why not invest in the future of your home and your happiness with a home organization system from Smart Spaces?
Rockford Custom Closet Design
A Smart Spaces custom closet is designed just for you. Everything is cut to fit your space precisely to eliminate the chance of shifting, buckling and gapping. In addition, you get the components that you will use; if you have 10 pairs of shoes and your neighbor has 100, you won't both end up with the same shoe rack if your closets are designed by us! As your top Rockford custom closet company, we take pride in creating unique storage areas for all of our clients.
You have several closets in your home, and it's possible that they're all different. You may have a walk-in closet in your master bedroom, kids' closets in the guest rooms, and small reach-in closets in the bathrooms and hallway. The good news is that we can optimize the space in any of these closet types! We work around unusual features, such as small sizes, slanted ceilings, windows and cubbyholes, too. We also have a wide range of closet accessories, like shoe racks, belt racks, jewelry trays and tie holders, that make storing all of your apparel and accessories a breeze.
Is your garage organized? If you have a hard time accessing what you need or you are ashamed to open your garage door when the neighbors are outside, you may need some garage organization help. We have the overhead storage, wall-based storage systems, shelving, garage cabinets, workbenches, flooring and more for you to have the garage of your dreams. If you're currently parking outside because you can't fit your car inside the garage, we can help with that, too!
Dishes and laundry are chores that exist in every home. There's no two ways about it: They just have to get done. You can work smarter (not harder) by having laundry and kitchen organizers installed in your Rockford home. Laundry shelves and cabinets keep your laundry aids up and out of the way, but within easy reach. A fold-down ironing board gives you a place to iron and fold clothes. And pull-out pantry shelves make cooking and making a shopping list much easier. You can't get out of these chores, but you can make them less stressful with the right tools.
Are you working from home? A growing number of Michigan homeowners are, so you're not alone. A custom home office from Smart Spaces can mean the difference between chaotic and effective when it comes to your workday. Let us help you find places for all of your files, boxes, books and office supplies with cabinets, shelves, drawers and a workspace. We have a lot of finishes and styles available, so you'll be able to have an office that makes you feel relaxed and productive.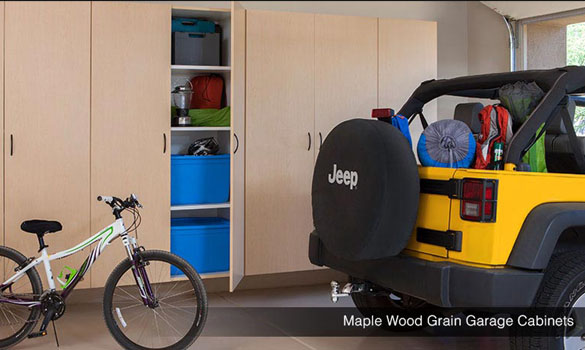 If you are ready to say goodbye to household clutter and hello to a new, organized way of living, it's time to call Smart Spaces. We will come to your home in Rockford to show you what we offer and to design your custom closet or other storage space. Best of all, this service is free! Call today to schedule your in-home consultation.