Organizers & Accessories
After you've determined the layout of your space, you can start to customize your organizational needs. At Smart Spaces, we offer an exclusive line of closet organizers and accessories that can fit into your design. From shoe shelves to jewelry storage, every item can be easily organized and protected.
Space Saving Accessories
During our design process, we'll use our 3D design tool to not only show you what your closet will look like when it's finished, but also how well it will function for you and your family. We can easily swap out accessories and organizers so you can see the full potential of your space. Consider the following features that can be added to any built-in closet system:
Concealed Storage
Closets are typically open concept areas, where everything is shown in full view on shelves or hanging rods, but we understand that it's nice to tuck things away sometimes. Choose from cabinets or built-in drawers that effectively conceal your belongings while remaining organized.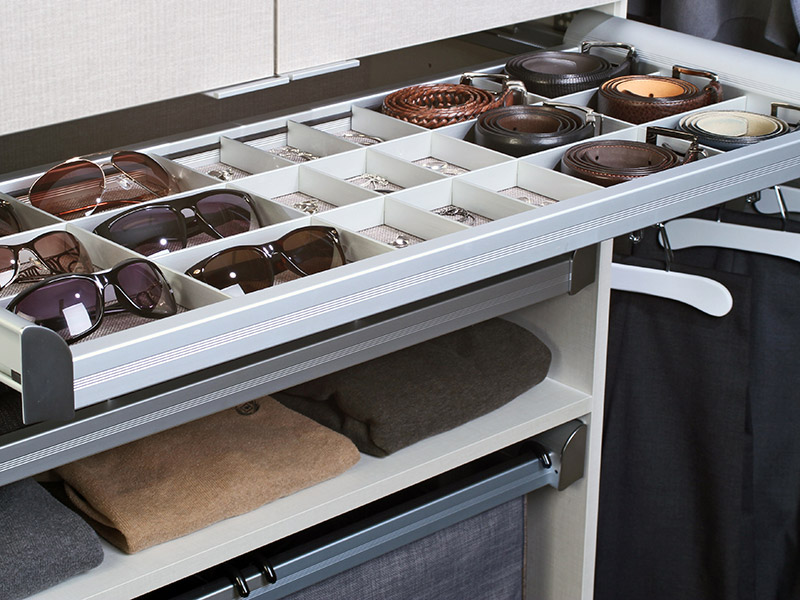 Laundry Solutions
Make laundry day a breeze with accessories that do the work for you. Pull-out hampers can be used to pre-sort clothes so when you're ready to do a load, it's ready to go! These can be disguised as cabinets to easily conceal dirty laundry.
Adjustable Options
You wardrobe is always evolving, so your closet should be able to keep up! With adjustable shelving and several hanging rod options, you can accommodate whatever the next trend might be!
Shoe Storage
Whether you have a love for shoes or just hate to see them stored on the floor, our shoe shelving is designed to protect your footwear. With our shoe shelves, it's easy to find your favorite pair in an instant.
Unique Solutions
Organize everything in your wardrobe, from belts to ties and even jewelry! We have unique solutions for every delicate or small item, including beautiful illuminated shelving.